One of my most vivid childhood memories is making Southern Lassies with my mom. These mini pecan pies were so incredibly easy to make and absolutely delicious that we made them all the time, but ESPECIALLY at Christmas! We would each put on our apron and pull out the special mini muffin pans, gather the ingredients, and spend the afternoon baking away -- working together, side by side, chatting a little and having fun. Such special memories! No wonder I love baking!
Imagine, if you will, a crispy-crunchy sugary top hiding an ooey-gooey ultra delicious filling inside a flaky-buttery crust. Oh my goodness, my mouth is watering already! My mom got the recipe from her friend, Mrs. Baker way back when I was little, and it's one of the few recipes that we make still today. My kids grew up on Southern Lassies, and my friends have also been treated to this treat's yummy goodness. In fact, when my cousins (who are now grown with families of their own) first came over from the Philippines so many years ago, one of the first things we taught them was how to make Southern Lassies! The youngest of those cousins asked about them just last week. She and her husband might just be getting a batch in the mail for Christmas. Maybe.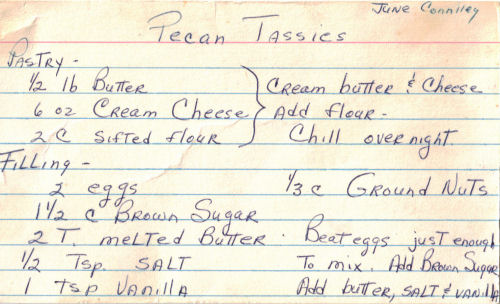 I am sad to say that I no longer have the original recipe to share with you (lost in a move during college -- I just keep asking my mom to remind me how to make them, ha ha), but I found this one online tonight and it looks about right! Notice the title of the recipe, though.... Pecan Tassies??? Well, okay. Actually, whenever I mention Southern Lassies that's the first thing I hear: "Oh! You mean Pecan Tassies!" Umm, no I don't. They're called Southern Lassies. But if you want to call them something else, that's okay with me. As long as we get to make them and eat them! :)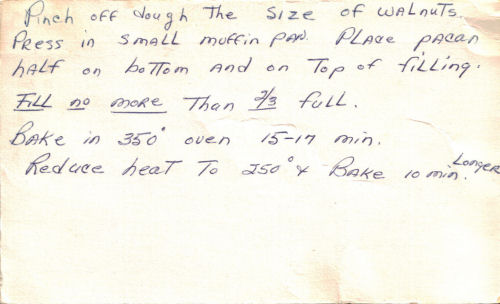 Go check out the website where I found this recipe card (click on the image), and you'll read an interesting little story about how it was found in a large collection somewhere. Well.... wait ..... that's actually all the story there is.... Still, it's interesting. I love that this recipe was found and preserved and shared in its wonderful, handwritten form. In this age of keyboards, the handwritten word is such a treasure! I don't know who the lady is that wrote down this recipe, but I thank her for it. And I thank whoever found it and posted in online for me to find, too. This treat is such an ingrained part of my history that I don't know what I would do if I suddenly couldn't make it anymore.
I can't wait until Kat and I make some Southern Lassies together this year! We'll use this recipe, since it's so close to the one we had. And because I really don't want to bug my mom yet again, ha ha. Or maybe that has become part of the Christmas tradition, too? Not sure.
~ Pia